Melbourne is one of the two most developed cities in Australia. If Sydney is vibrant and modern, Melbourne will bring a more peaceful and classic beauty. There are many interesting sights in Melbourne waiting for you to explore and at the end of your journey you will understand why it has been named "The most livable city in the world" for many years.
Experience on the City Circle train
City Circle is a typical train system in Melbourne that still maintains its ancient design, identified by the exterior as red, brown, yellow and green. The interior of the train will remind you of the trains of the previous century.
In the City Circle tram system in Melbourne, the most famous is Line 35. This is a completely free route, mainly serving tourists, taking visitors through major shopping and sightseeing destinations like the old Treasury Building, the National Assembly Building and the Princess Theater … and you can even hear historical explanations of each passing place.
back to menu ↑
National Library of Victoria
Your first stop is one of the most magnificent and beautiful libraries you will admire. To get to the National Library of Victoria, get off at the City Cirlcle Tram when you go to La Trobe Street, and the National Library of Victoria is at the corner of La Trobe and Russel Streets.
One of the most remarkable places at the National Library of Victoria is the La Trobe reading room with its majestic dome. You will really be overwhelmed by the beauty here. But remember to make a gentle smile to keep silent in the library.
Address: 328 Swanston St, Melbourne VIC 3000, Australia
back to menu ↑
Flinders Street Station
The next stop on the journey is the Flinders Street Railway Station, located at the corner of Flinders and Swanston Streets. If you take the City Circle train around the city center then Flinders Street Railway Station is among your stops, and this is a must-see.
Flinders Street Railway Station is the oldest station in Australia opened in 1854. It was also the busiest railway station in the southern hemisphere. Inside the train station, you will admire the ancient architecture with the iconic arched dome in Melbourne.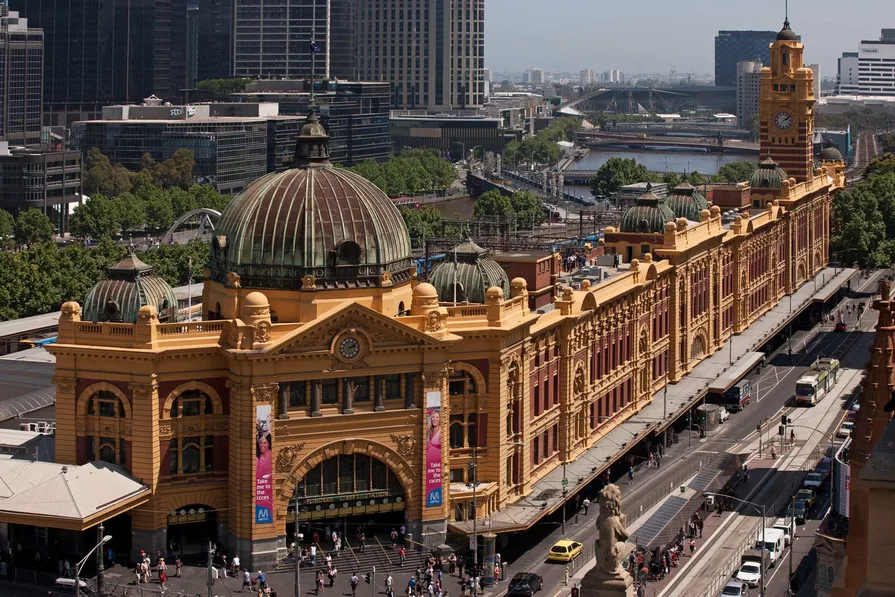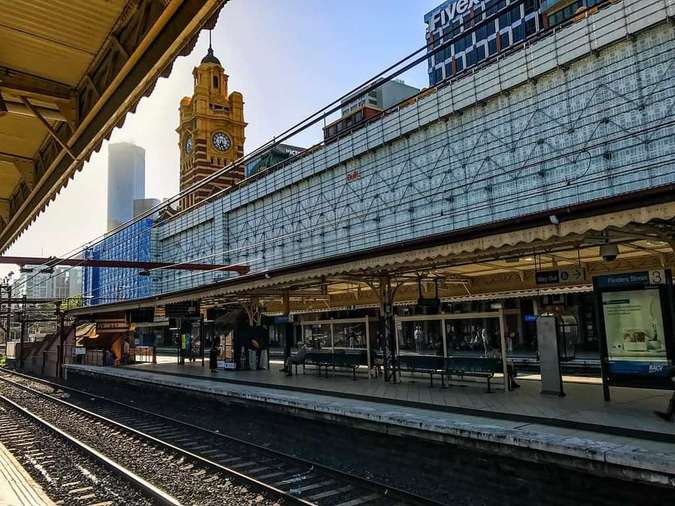 Address: Flinders St, Melbourne VIC 3000, Australia
back to menu ↑
St Paul's Church
Located directly opposite Flinders Station, St Paul's Church is an English Catholic building with ancient European architecture. Coming to Melbourne, at all way you should not miss St Paul's Church!
It is not difficult for you to recognize St Paul's Church from afar, the church with a magnificent spire standing in the heart of Melbourne. Standing across the street, you can admire the whole project and hear the bells ringing from the inside. Step through the large doors to get inside, the magnificence of St Paul's Church seems to open up in front of the eyes, the Gothic-style church with its tall dome makes me feel very small.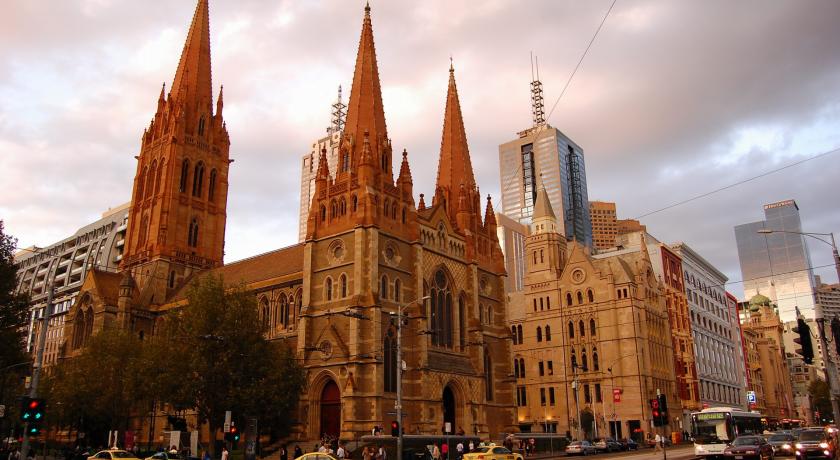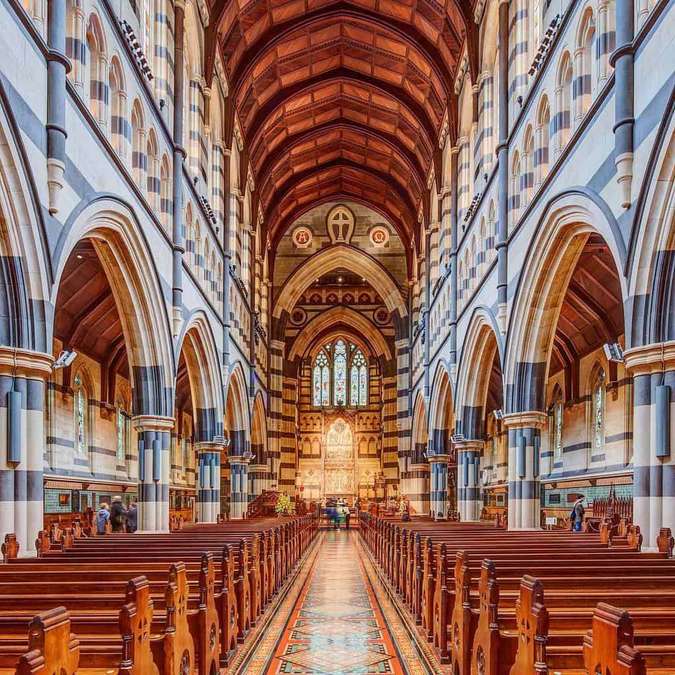 Address: Flinders St, Melbourne VIC 3000, Australia
back to menu ↑
Walk around the Flinders, Collins or Bourke streets
From Flinders Street, you can walk around the winding streets of the city center such as Flinders, Collins or Bourke to see more clearly life in Melbourne. You will be lost in the mazes with mosaic-lined walkways, uniquely decorated arches, flanked by luxurious and beautiful shops.
Here, mixed with ancient buildings, you will also find many luxurious shopping malls with all kinds of the most luxury brands in the world or bright glass office buildings crowded with office workers. neat, stylish.
back to menu ↑
Federation Square
Federation Square (also known intimately as "Fed Square) is located near Flinders train station and St. Church. Paul's, right at the intersection of Swanston Street and Flinders Street. Completely opposed to the ancient Victorian style of the surrounding buildings, Federation Square has a liberal and modern architectural style with a bold structure, asymmetric angles.
This is Melbourne's main public and community space, where you can participate in many events, activities, explore museums or simply watch the flow of people. Fed Square is a great place to relax in the heart of Melbourne. To be honest, I can sit here for the whole sightseeing, not boring because there are countless activities going on around, especially performing arts. Sitting at Fed Square you will feel how free and artistic a city of Melbourne is.
Address: Swanston St & Flinders St, Melbourne VIC 3000, Australia
back to menu ↑
Hosier Lane
Steps from Fed Square, you'll reach Hosier Lane, the alley between Flinders and Collins streets. What's so special about Hosier Lane that I've come here? If in other cities it is forbidden to paint in public in any form, then in Melbourne there is an area for artists to express their art. That is Hosier Lane – street art space, where you witness many colorful graffiti.
You will certainly find Hosier Lane familiar because it is one of the hottest check-in places in Melbourne (apart from the seven-color houses on Brighton Beach). Coming to Hosier Lane is really nice to have. You can "owned" yourself hundreds of virtual live photos here. But don't forget to stop and enjoy these street art works!
back to menu ↑
Docklands Esplanade
In the evening head to Docklands, where the Yarra River flows into Port Phillips Bay. Docklands Esplanade is extremely busy at night. Here, you will see the panoramic view of the Yarra River and the two banks of Melbourne at night, extremely sparkling. And there is nothing more relaxing than a stroll to the Docklands Esplanade at night to see the wind and enjoy the scenery.
If you come to Melbourne in winter (July), you will admire the fireworks festival at Docklands port.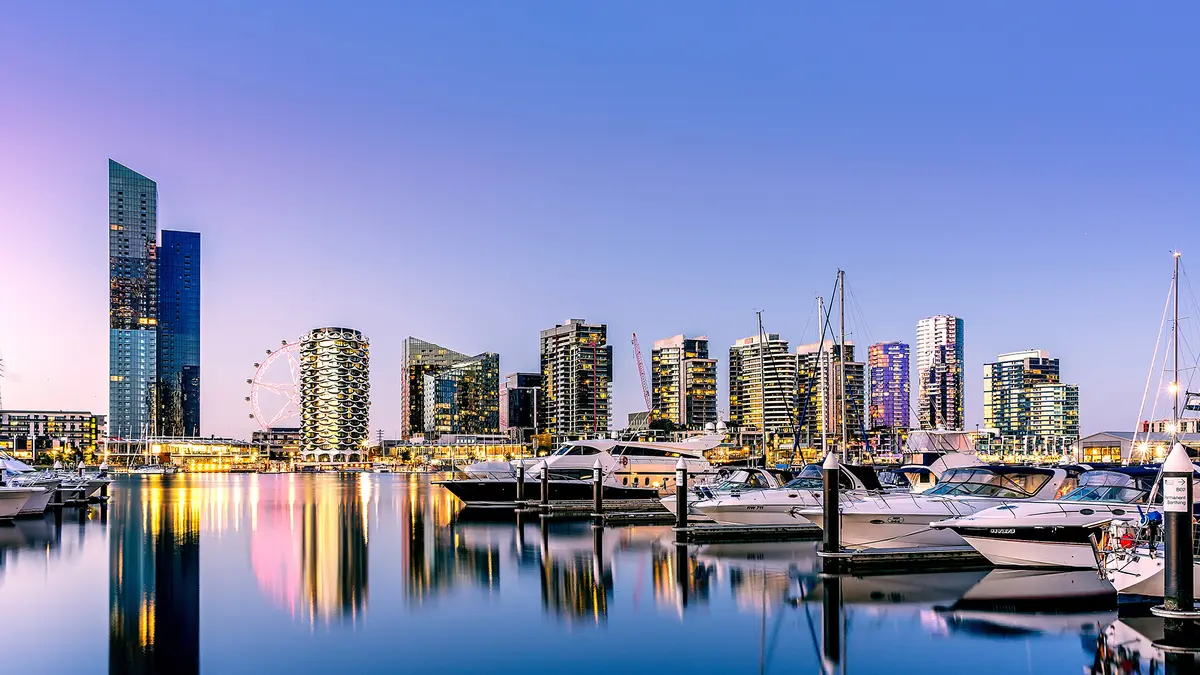 back to menu ↑
Eureka Skydeck 88
Ticket to visit:
-Take in unparalleled views of Melbourne at the highest observation deck in Souther Hemisphere
-You'll go up 285 meters in only 38 seconds up 88 floors
-Take in a 360° bird's eye view of Melbourne through the giant glass windows
-Use the 30 view finders and high definition binoculars to spot Melbourne's landmarks
-Take advantage of the free WiFi and audio guide tour for iPhones available for download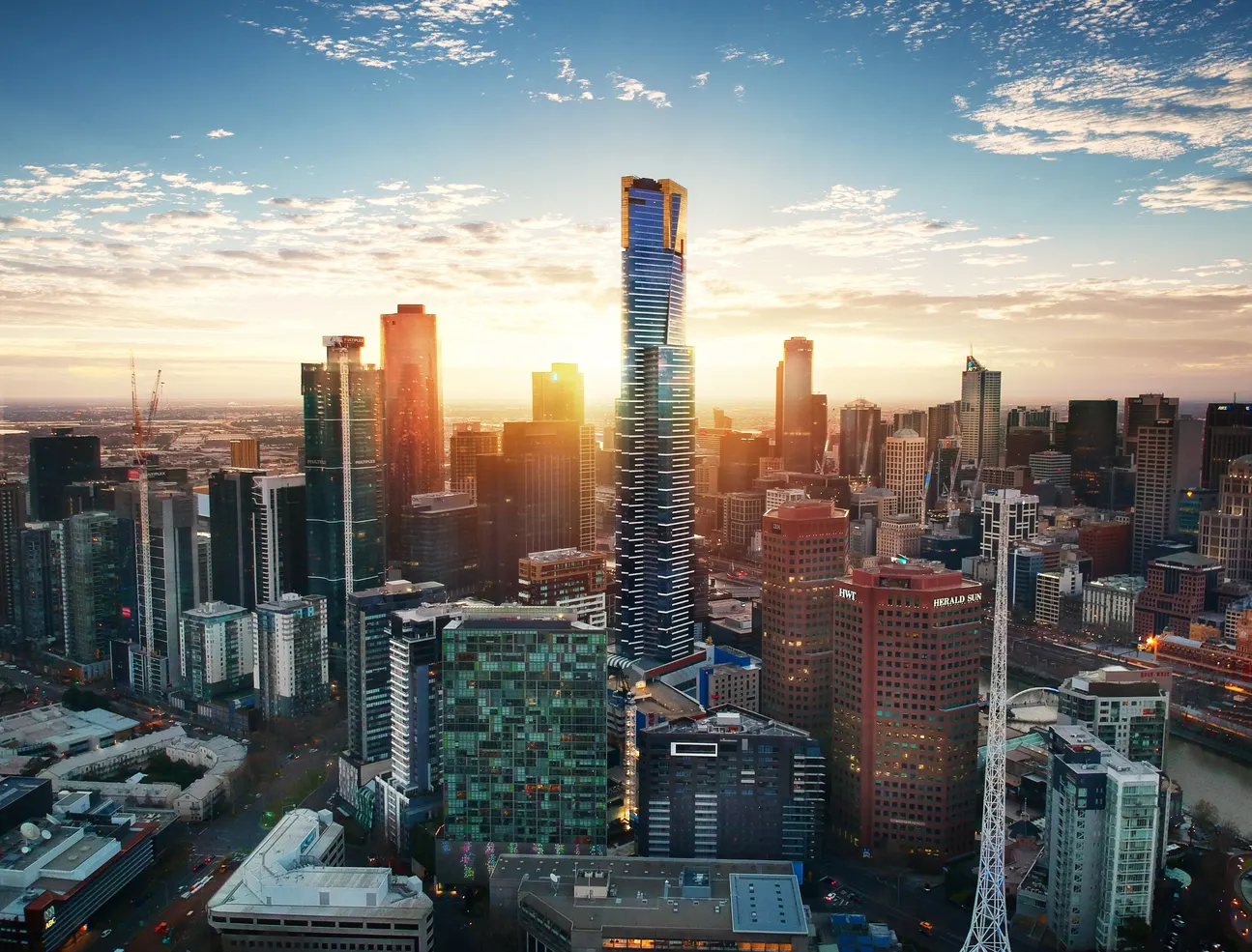 Coming to Melbourne, you can not ignore the panoramic view of the city from high. Surely you wonder what Melbourne looks like from above? Then take a trip to Eureka Skydeck 88. You know Melbourne doesn't have as many tall buildings as other big cities. The tallest building in Melbourne has 88 floors. And on the 88th floor – Eureka Skydeck 88, you will have a panoramic view of Melbourne.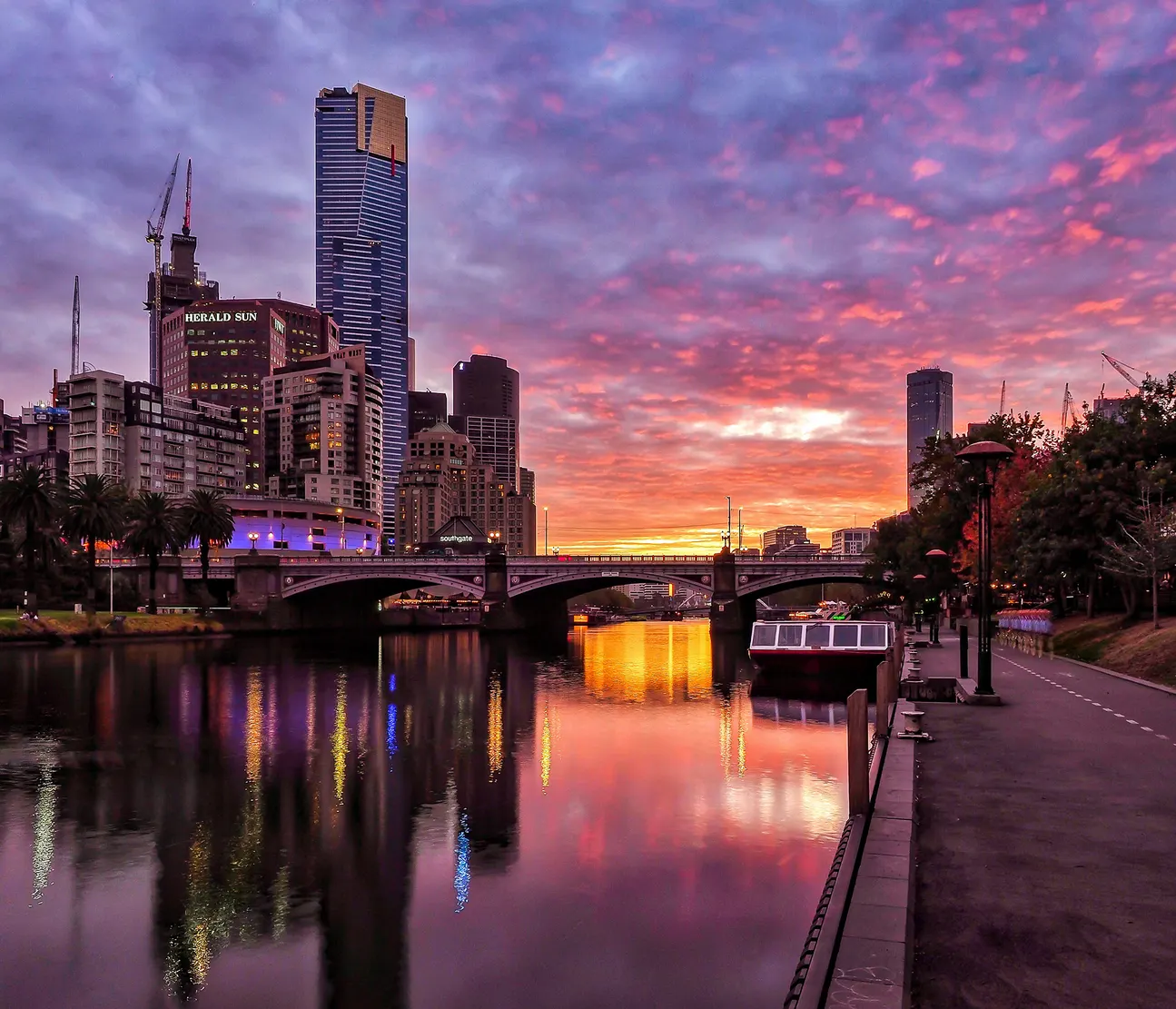 The most special thing about Eureka Skydeck 88 is a glazed area called The Edge, where you have a 360-degree view of the entire city of Melbourne. From here you will see how shimmering Melbourne at night. As for me, Melbourne is both modern but also a bit very peaceful.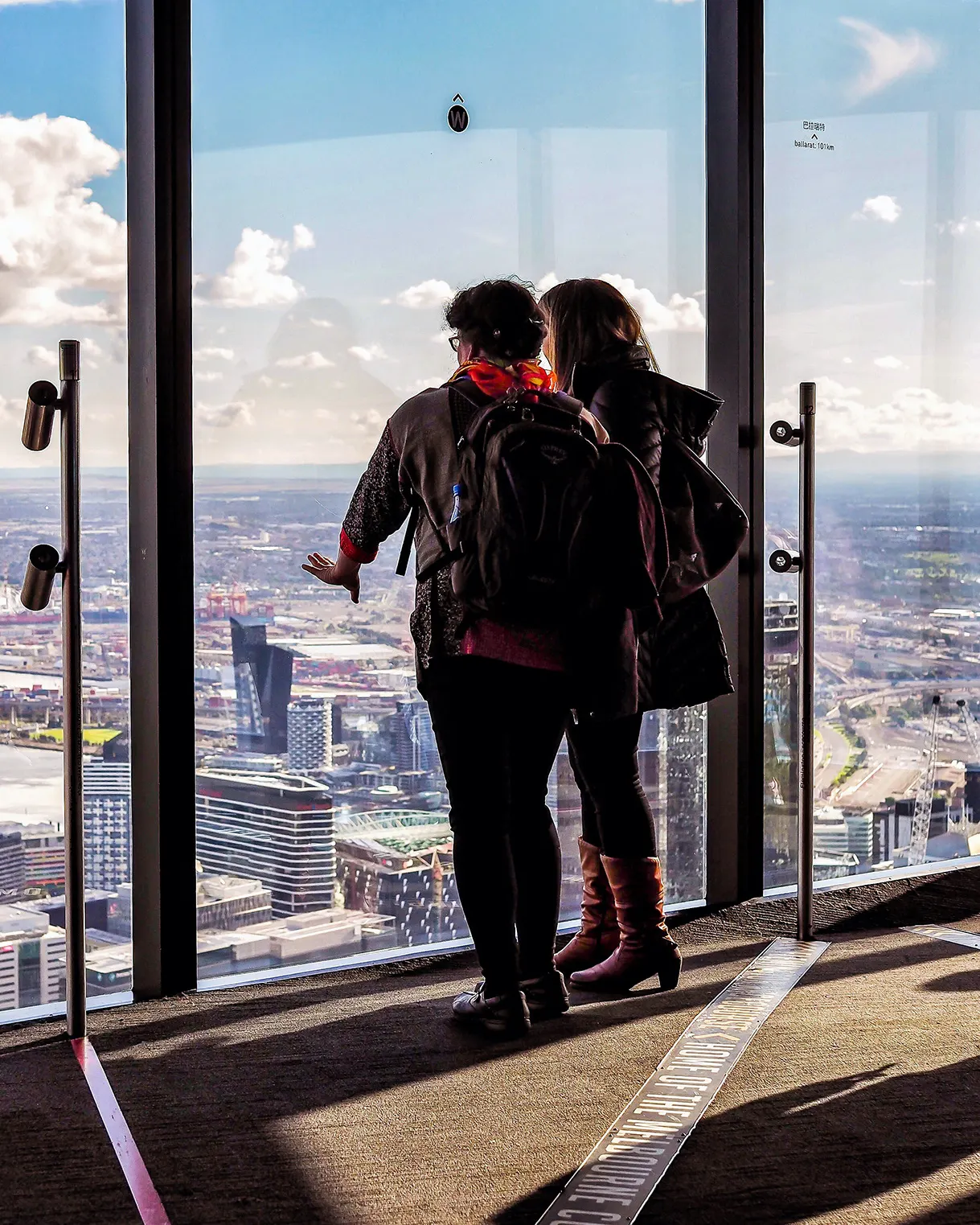 back to menu ↑
Melbourne Coffee Lovers Walking Tour
-Get your daily caffeine fix from Melbourne's top coffee places on this exciting walking tour
-Visit 4 top cafes and savor the taste of 4 different styles of coffee crafted by expert baristas and brewers
-Learn more about the city's coffee culture from crop to cup through your friendly and knowledgeable guide
-Enjoy a fun and interactive coffee expedition with a small group of travelers sharing the same passion