Australians love beer, but coffee and wine are indispensable in their life! Adelaide is the country's wine capital and Australia is the world's 4th wine exporter. Australia's coffee culture, especially in big cities like Melbourne or Sydney, has inspired a culture wave around the world. Australia prides itself on its coffee culture, Australian bartenders are not afraid to experiment with new flavors and always find unique ways to brew.
A great trip is indispensable for a special culinary taste in that tourist destination. In today's topic, we have discovered and listed out a list of delicious drinks that cannot be missed when coming to Sydney.
Best for cocktails: Eau-de-Vie
Eau-de-vie is a transparent, colorless fruit brandy produced through double fermentation and distillation. The fruity flavor is usually not that strong.
To preserve the fruit's natural properties, most eau-de-vie are still mass distilled through copper pot, usually once for chilled fruit and twice for fermented fruit. Then, before bottling, the distillate is usually "mellowed" for a period of time, in stainless steel or glass containers. And Voila! You have an incredibly sharp finish with unprecedented purity while interestingly mimicking the fruit it produces. Sip a glass of Poire Williams, and you can almost feel the pear grains dancing around your palate.
Absinthe, nicknamed 'The Green Fairy', is an anise-flavoured spirit derived from botanicals, including the flowers and leaves of Artemisia absinthium, together with green anise, sweet fennel, and other medicinal and culinary herbs.
A spirit which is deeply connected with arts & popular culture, absinthe was even considered the muse of renowned artists and famous author (most notably: Van Gogh)
As a niche venue, its offering is straightforward – a boutique range of absinths in a gothic/Victorian setting. But its real appeal is the experience – dripping g the water through the sugar cube, watching the absinth louche. It takes you into a whole different world – a wonderful antidote if you're weary of the daily grind. Enjoy!
back to menu ↑
Best for natural Italian wines: 121 BC Sydney
Italy – the land of wine (Oinostria) is the oldest wine producing country in the world. Annual alcohol consumption is estimated at 42 liters / person, ranking 5th globally. Furthermore, the tradition of Italian wine making is passed down from generation to generation, creating endless passions that flow with time.
121 BC Sydney -Dimly lit enoteca with a single, long communal table, extensive wine list and gourmet Italian food. This stylish, dimly lit, hallway specializes in Italian wine dynamics and truly knows its stuff. This is one place that left a great impression first and every time since. The food is just beautiful, simple, quick, and constantly changes with the specials. So far very few small small bars have met the standard set by 121 BC.
back to menu ↑
Best for tequila: Tio's Cerveceria
Tequila is one of the top 5 most consumed wines in the world for its strong, healthy, crispy, spicy and spicy flavors. Tequila receives a passionate passion from the vibrant country and is sipped as a premium whiskey. Besides, many people are also enamored with Tequila for its liberal and wild flavor, bringing refreshment and relaxation.
At Tio's, as well as at the others, they've created a space in which it's all about the culture surrounding the alcohol. If you're a fan of tequila, Tio's will be your new favourite haunt and, if you're not, you should certainly visit anyway. They do five or six mixed tequila drinks, including a sour with grapefruit and soda, a smokey combination of coke and lime in salt-rimmed glass, and another called Roberto's Especial of fresh apple juice, cucumber and three herbs. The last has a particularly amusing back-story (ask one of the bartenders on a quiet night), and all will set you back a mere $10. The drinks are refreshingly tangy, and it's a nice change to drink something other than a G&T or a glass of pinot without paying $18.
back to menu ↑
Best for whiskey: Baxter Inn
Unique and weird place. The entrance is just a back door and you go down into a basement. Then you see the largest collection of whiskey and alcohol that I have ever seen. Some of the whiskey that we tasted was very good. The bartenders know what they are doing. Simply say what you want or let them decide if you explain the preferences. The whiskey shots range from about $15 upwards to more than $800..! If whiskey is what you like definitely check this place out. Be prepared to spend big.. The experience itself is awesome. Don't forget if you are going here don't drive.. as you will come out a bit fresh.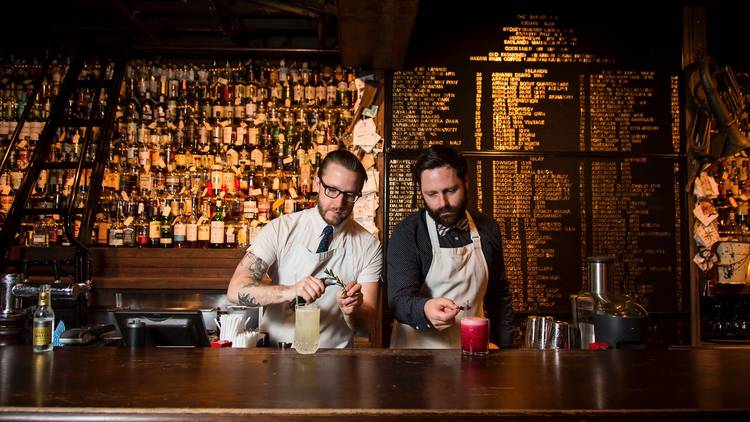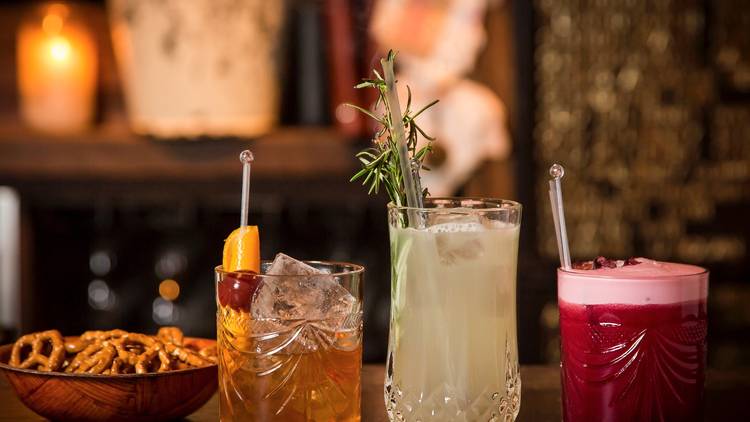 back to menu ↑
Best for coffee in Sydney
The Grounds of Alexandria
This is both the best place to drink coffee in Sydney and also a favorite dining place for Sydney people. The Grounds of The Grounds are creatively decorated with the iconic Harbor Bridge of Australia. This coffee shop gives customers a warm feeling as if they were at home through a hot cup of coffee and a healthy menu.
back to menu ↑
Paramount Coffee
Opened in 2013, Paramount Coffee is designed with an open space, full of moon decoration with many eye-catching furniture. The restaurant wants to introduce to everyone different types of coffee, roasting, brewing and enjoying coffee styles.
Paramount Coffee connects and selects reputable roasters from all over the world to change, create newness and bring excitement to the new day of each guest. In addition, coffee shop also focuses on unique and delicious dishes to create highlights to attract customers.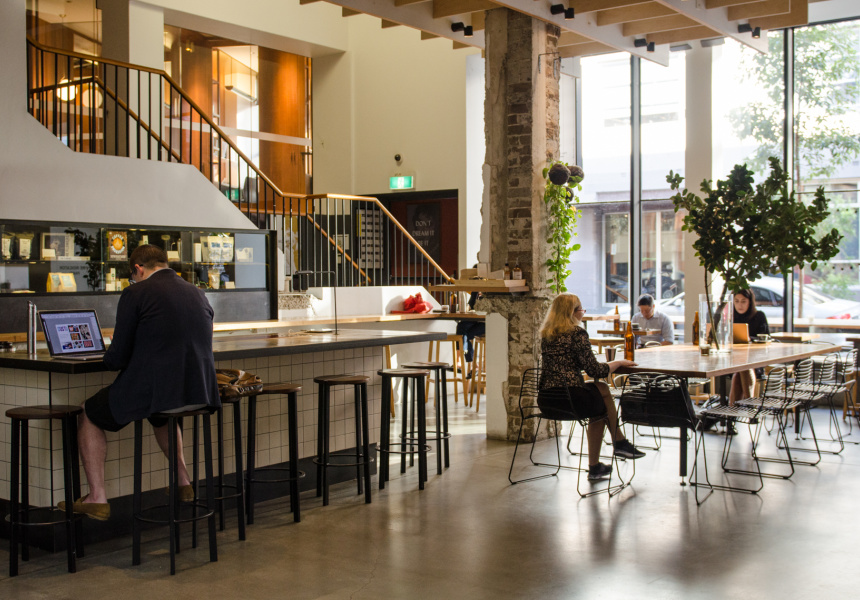 back to menu ↑
Gumption by Coffee Alchemy
Gumption by Coffee Alchemy is located on the ground floor of The Strand, Arcade Arcade – the oldest high-end retail outlet located in the heart of Sydney. The place to gather many cafes and things related to coffee culture. This Sydney's best coffee spot is just serving coffee with happy smiles.
back to menu ↑
Best craft beer: The local Taphouse
It is as it's name suggests a house of many taps. That is to say, they have many kegs tapped with a great variety of beverages. Importantly, provably the widest range of sour beers in Sydney. More importantly, they are all good too. The tap house had three levels (with a, as of this review, very recently launched, rooftop bar making the third level). They have a standard length pub food menu and a new chef. With a rotation of about 20-25 beers on their menu, you're looking at a solid night out. Prices vary and while higher than average, this is not unexpected for craft beers and sours. Tap house also has an in-house bottleshop if you'd like to take away. The quality of feed is alright, the weekday snitty for $15 a particularly good buy, but otherwise the price is again only slightly above average. Final score: Bring some friends, support a fine establishment and have a good night out.