If you are planning to travel to Sydney – Australia's beautiful city, do not miss the chance to enjoy the taste of coffee here. Sydney city is quite famous for quality cafes and space. Here are the best places to drink coffee in Sydney and serve up delicious food.
Celsius Coffee Co
Celsius Coffee Co is one of the most famous cafes in Sydney . Traveling to Australia , this is the perfect place for you to enjoy a Sydney-style morning . The shop is located on the harbor in the coastal town of Kirribilli , Sydney suburbs . It becomes the rendezvous point for a fresh breakfast. At Celsius Coffee Co you will enjoy the best coffee in the town of Kirribilli.
And a healthy Super Greens breakfast with a combination of foods. Stir-fried kale, asparagus, mashed lemon .. will be in your breakfast. Don't miss Celsius waffles, which is famous for its berries, maple syrup ..

Address: Commuter Wharf, Holbrook Ave, Kirribilli NSW 2061, Australia
back to menu ↑
Campos Coffee
Based in Sydney, Campos Coffee is a pioneer in specialty coffee in Australia. It started out as a small coffee shop in Newtown. It is currently a large business with more than 60 wholesale branches in Sydney. Therefore, it is difficult for Campos Coffee to be absent from the top of the  famous cafes in Sydney .
back to menu ↑
Room ten, Potts Point
Room ten is a hidden café on the Llankelly Place alley on Darlinghurst Street. And it is very difficult for you to locate this coffee for the first time. Room ten is known to be the best Sydney coffee house in the city. This place has a cozy and close space.
The restaurant also serves breakfast and lunch all day with a variety of popular menus. They use locally available materials such as red rice and cereals. The shop also prepares delicious dishes. Room ten is always an ideal hiding place to avoid the bustle of The Cross.
Address: 10 Llankelly Pl, Potts Point NSW 2011, Australia
back to menu ↑
Gumption by Coffee Alchemy
Gumption by Coffee Alchemy is located on the ground floor of The Strand, Arcade .The Strand, the oldest upscale arcade Arcade located in the heart of Sydney. The place to gather many cafes and things related to coffee culture. This popular Sydney  coffee shop specializes in just serving coffee with happy smiles.
back to menu ↑
Bondi Hall
If you visit Sydney's famous Bondi beach, go to Bondi Hall to sample the seductive taste of coffee. Enjoy a fine cup of coffee and an enticing dish like a boiled egg with cheese. Seasonal Fruit, Hummus, Braised Eggplant Salad topped with Lemon Syrup ..
back to menu ↑
Paramount Coffee
Opened in 2013, Paramount Coffee is designed with open space. Paramount Coffee is decorated with many eye-catching furniture. The restaurant wants to introduce to people different types of coffee, roasting, brewing and enjoying coffee styles,…
Paramount Coffee connects and selects reputable roasters from all over the world. This is to change, create newness and bring excitement to the new day of each guest. In addition to the famous coffee shop in Sydney , the restaurant also focuses on unique and delicious dishes that create highlights to attract customers.
back to menu ↑
Barefoot Coffee Traders
This popular Sydney café has a passionate blend of coffee aromas and delicious homemade waffles. Barefoot Coffee Traders is ideal for those who are addicted and want to find a quiet space to enjoy coffee. To tour Sydney, you buy one cup of coffee at Barefoot sip Coffee Traders and while walking along the beautiful coast.
back to menu ↑
South by Dukes
Located inside Barangaroo – Sydney's newest dining area , South by Dukes has an elegant and eye-catching design. This is a subsidiary of Dukes Coffee Roasters – a specialty Australian coffee roasting company based in Melbourne. South by Dukes uses advanced roasting techniques and unique blending methods. Moreover, the restaurant also serves snacks such as sandwiches, cakes, fruit salads, toast, Bircher muesli cereals..
back to menu ↑
The Grounds of Alexandria
This is not only  a famous cafe in Sydney but also a favorite dining place of Sydney people . The Grounds of The Grounds are creatively decorated with the iconic Harbor Bridge of Australia. This coffee shop gives customers a warm feeling as if they were at home through a hot cup of coffee and a healthy menu.
Address:  7a/2 Huntley St, Alexandria NSW 2015, Australia
back to menu ↑
Cuckoo Callay Surry Hills
Notable dishes here include Indonesian fried corn, breakfast cocktail, capuchino and the best French toast in Sydney. A swanky brushed concrete and gold accentuated dining room, nestled along a saturated strip of eateries, Cuckoo Callay is a new breed of coffee cafes where brunch and caffeinated drips hold equal importance.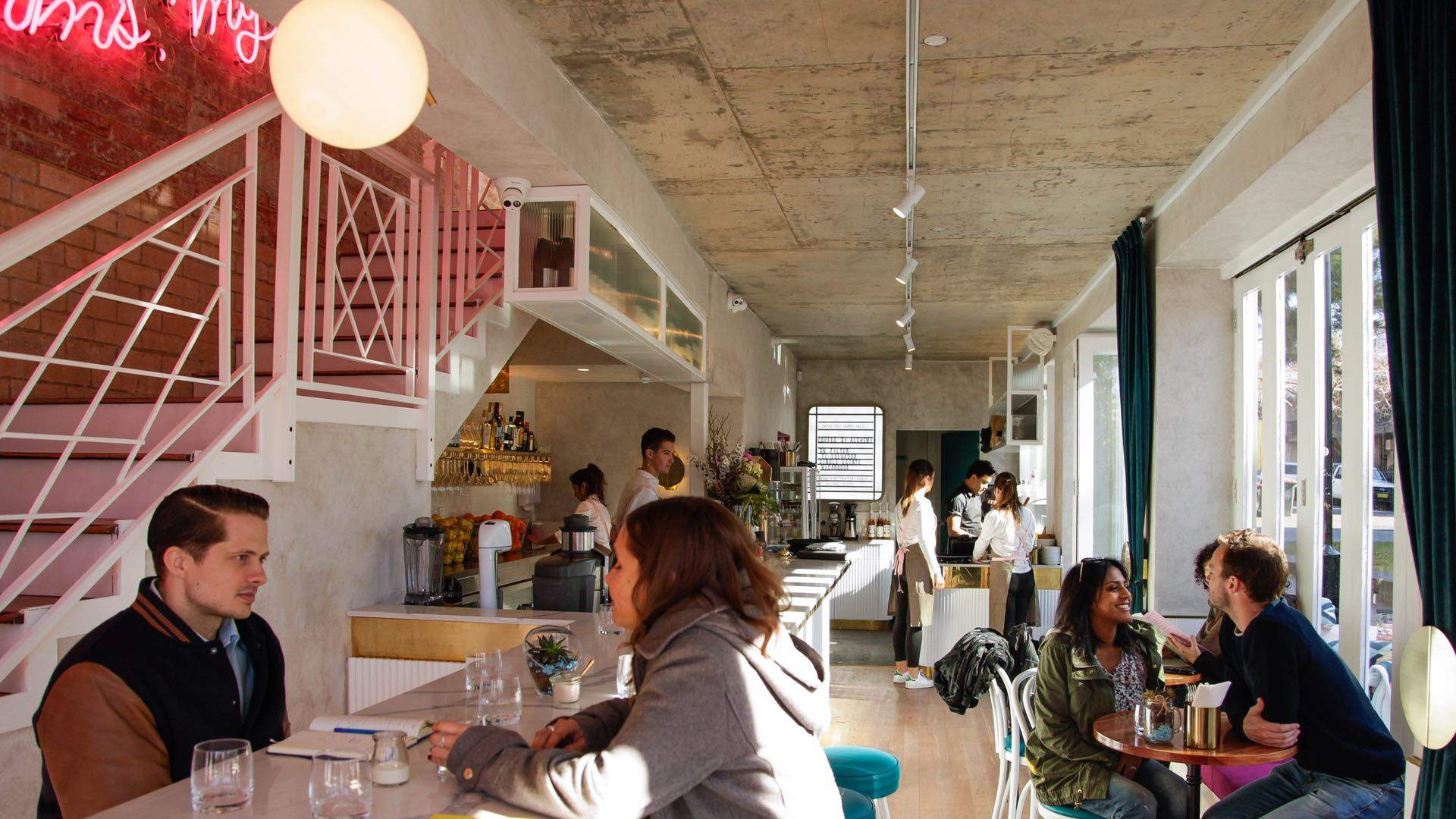 Address: 413 Crown St, Surry Hills NSW 2010, Australia
back to menu ↑
Petal Meet Sugar
Petal met Sugar is not your usual coffee bar or cafe. It's more of a patisserie, where the cakes are works of art. If Woolloomooloo is a bit too far to walk you can now enjoy Petal met Sugar delights in The Rocks, just inside duty free location T Galeria at 155 George St. Tired of the latte-go-round, the flat-white frenzy? Go here for their excellent selection of teas (not to mention their legendary "high tea"). But if you feel like a coffee, try their pour-over coffee. And hold the milk to get the real flavours of their special coffee blends.
Address: Shop 7, 68 Sir John Young Cr Woolloomooloo NSW 2011
back to menu ↑
Brewtown Newtown
Brewtown has it all. Lets start with the coffee… simply the best around. Food…. yum! great selection of breakfast and brunch/lunch options which are beautifully presented and enjoyable to devour!. Super chilled spot to unwind, enjoy the music and chat to the staff who make you feel like part of the Brewtown family.  Fantastic venue for breakfast or brunch. Coffee was delicious and the food even more so. Friendly staff and amazing service. Definitely the place to go in Newtown.
Address: 6-8 O'Connell St, Newtown, Sydney, New South Wales 2042 Australia
back to menu ↑
Edition Coffee Roasters
This cafe is a hidden gem with great ambience, perfect for a relaxing afternoon or break from work. It is quite a bit pricier than the average cafe, however it is well worth the visit for the experience and the taste of the food.
This cafe expereince will be a place that blown you away! The coffee is so great! Their pancakes were super yummy, very fluffy cakes with a pleasant floral taste, not too sweet and it was perfect to kick-start the day! Especially the furnishing, it's really simple and home-like!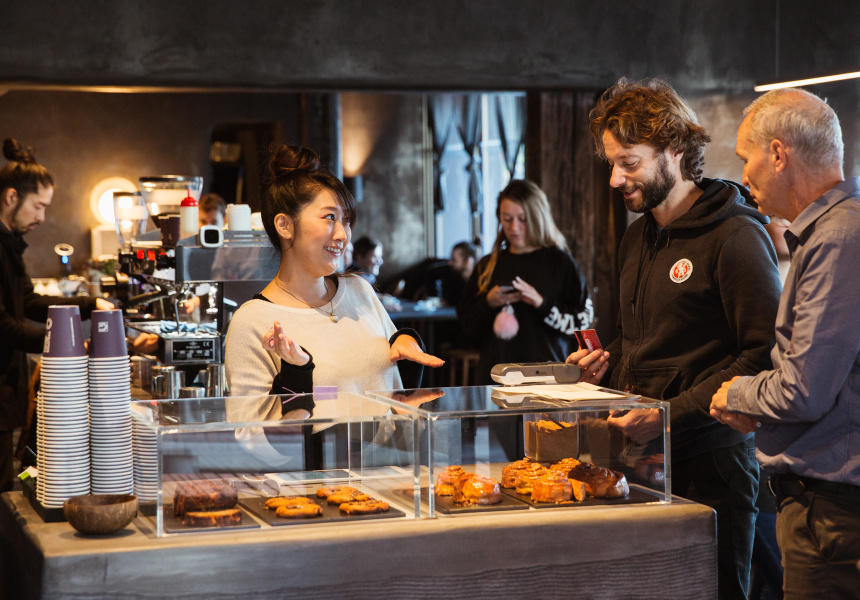 Address: 265 Liverpool St, Sydney, New South Wales 2010 Australia